Do It Yourself SEO
Everything You must know about SEO
Local SEO is an extremely targeted form of advertising because the business owner isn't actually advertising directly to the customer. It's this way that local SEO is so unlike television commercials, print ads, and brochures. While these methods may fall upon the ears of hundreds or even thousands, and only get the business one or two new customers, local SEO isn't blanket advertising. Business owners don't just have to put it out there and hope for the best.
By its very nature, local SEO automatically targets a specific audience. And, it's even cheaper than all of those traditional forms of advertising put together.
SEO Checklist
A checklist to make sure your site is ready to be picked up by the search engines for a strong positioning.
Download your Free Report and SEo Checklist
---
The New Guide to SEO
Do you want more traffic?
Everyone that has a website would answer that question with a loud "yes."
Unfortunately, getting traffic is not as easy as some people make it seem…
There are a lot traffic methods out there that require a TON of time and many that require a lot of money to get going.
What if there was an easy method for getting TONS of traffic?
Something that you could learn and implement, and start getting results with fast?
Read more
---
SEO Audit
A good starting point for any seo strategy is an seo audit
Goole provides a free tool where you can see how Google sees your web site and what may be missing from your site Varvy SEO tool
Let us do it for you
---
Submit your site to search engines
For this there are two main search engines to submit your web site to:
Google: https://www.google.com/webmasters/tools/
Bing: http://www.bing.com/toolbox/webmaster
You can also make use of a 3rd part submission tool like Scub the web http://www.scrubtheweb.com/tools/easy-submit.html
Let us do it for you
---
Add an xml sitemap to your web site
A good tool I have found to create a sitemap.xml file is www.xml-sitemaps.com
Let us do it for you
---
Add a robots.txt file to your site
For uploading a robots.txt file to your web site www.seobook.com works well.
Let us do it for you
---
Basic Keyword Research
Keyword research helps to determine what keywords are appropriate for your web site keyword planner https://adwords.google.com/KeywordPlanner/
Let us do it for you
---
Target your local Business
List your site on Google maps and for Business www.google.com/business/
Let us do it for you
---
Analyse your data with analytics
Google Analytics enables you to analyse the traffic on your web site https://analytics.google.com/
Let us do it for you
---
Software to simplify the SEO Strategy
Below we have made a list of software that may assist you in developing your SEO Strategy
Agency Analytics
Rank Tracker
Track local and global keywords for SEO campaigns, updated daily.
Backlink Monitor
Monitor backlinks for client websites and track competitor activity.
SEO Audit Tool
Analyze, discover and eliminate common website issues impacting your SEO efforts.
Social Analytics
Monitor and track engagement across: Twitter, Facebook, Youtube, LinkedIn, Instagram.
PPC Analytics
Connect directly to Adwords and Facebook Ads to monitor essential website metrics.
Read more...
---
SEMrush Сompetitive Research and Business Intelligence Software
Analytics Reports
Get insights into your competitors' strategies in display advertising, organic and paid search, and link building.
Organic Research
See competitors' best keywords, discover new organic competitors and observe position changes of domains.
Advertising Research
Uncover Your Competitors' Ad Strategies and Budget, Analyze Your Online Rivals' Ad Copies and Keywords, Discover New Competitors in AdWords and Bing Ads, Localize Your Ad Campaigns.
Display Advertising
See top publishers and advertisers, Analyze competitors' display ads, Spot new publishers, View displays from different devices
Keyword Research
Find the right keywords for SEO and PPC campaigns, Gather phrase matches and related keywords, Get long-tail keywords, Explore multinational and multilingual environments
Read more...
---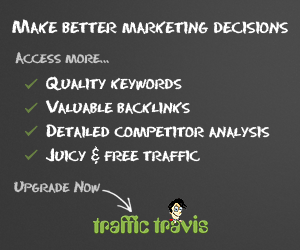 Improve your website's search engine rankings.
Perform a full SEO health check on any website.
Uncover technical mistakes that may affect your rankings.
Find out why competitors outrank you, then beat them!
Keep tabs on your competitors to spot keywords you should target.
Monitor your search engine rankings so you know where to focus your efforts.
Find respected link partners and build quality backlinks, easier.
View the video on how Traffic Travis works
Read more...
---
If you have a website, you need this tool
It's DYI – you don't have to give a penny to SEO companies
It's COMPLETE – you have all the tools you need and never switch to other apps
It gives PROVEN results – your site will rank high and get floods of traffic
It's trusted by 1 million users – it has helped over a million website owners to thrive online
Here's how the software works.
When you'll download and install your SEO PowerSuite, you'll get a comprehensive set of 4 SEO tools, each dealing with a particular aspect of search engine optimization.
Read more...
---